CERTIFICATE COURSE IN GRAPHIC DESIGNING
Professional Development Program
MITCON Advanced Graphic Design Certification Course in Pune
Develop Technical Skills in Digital, Printing and Photo Editing Software
5 Softwares
200+ Practical Assignments
Certification Course
100% Placement Assistance
Why MITCON e-School? The Best Training Institute in Pune for the Latest Graphic Design Course
MITCON e-School is a well-established Best Updated Graphic Design training institute in Pune that has developed many successful graphic designers for this industry.
This course is designed to provide students with a solid foundation in graphic design principles, skills and theory. Students will learn how to create effective visual communication through typography, layout and illustration. As well as, this course will allow students to develop their creative thinking, problem-solving, and technical skills while learning about the industry-focused topics relevant to today's designers.
Industry Focused Syllabus :
Learners will learn software like CorelDraw, InDesign, Illustrator, Photoshop and Canva. Individual software contains software-wise practical assignment modules.
Industry Oriented Skills :
We emphasize offering students industry-oriented skills like thinking creatively, time management, delivering presentations, design principles, project management, producing quality designs and developing ideas.
Placement Assistance :
Our Institute provides a Graphic Designing Certification course that delivers quality education. It also helps career guidance and leads to good job placements in the industry.
Advanced Graphic Design Course in Pune
Overview : "One key to building a successful company is updating marketing business materials. Graphic Designers need to have a good understanding of the latest trends in graphic design and what are the best techniques for designing successful marketing material. A good graphic designer can help every business to market any products or services more effectively."
Graphic Design is an aspect of visual design that consists of arranging visual elements, such as colors, objects and pictures, to produce graphic content. It uses various software to provide visual effects like Photoshop, Illustrator, CorelDraw and InDesign. Graphic design solutions are widely demanded, for the products, publications and printing industry, such as advertising, books, flyers, product packaging, posters, websites, banners and many more.
Today everyone practices or uses graphic design in their daily life, whether adding text to an image for a birthday, event or social media post. Overall these are designing layouts examples of graphic design.
There are several types of graphic designs. Each design contains specific sets of skills and design techniques. Graphic design mainly stands on the pillars of creativity, knowledge of industrial design software and a practiced approach to managing time.
Mold your Graphic skills the way you want
Graphic Design has a variety of design ranges, which all are around us. Graphic designers are reliable for developing graphics and images that communicate ideas, messages, feelings and information that can be printed or used on the internet. Each scope of graphic design areas and specializations has specific skills and techniques.
Marketing and Advertising Designs
User Interface Graphic Designs
Publication Designing
Packaging Designing
Art and illustration Graphic Designs
Textile and Surface Graphic Designing
Branding and Identity Designing's
Digital Graphics Designing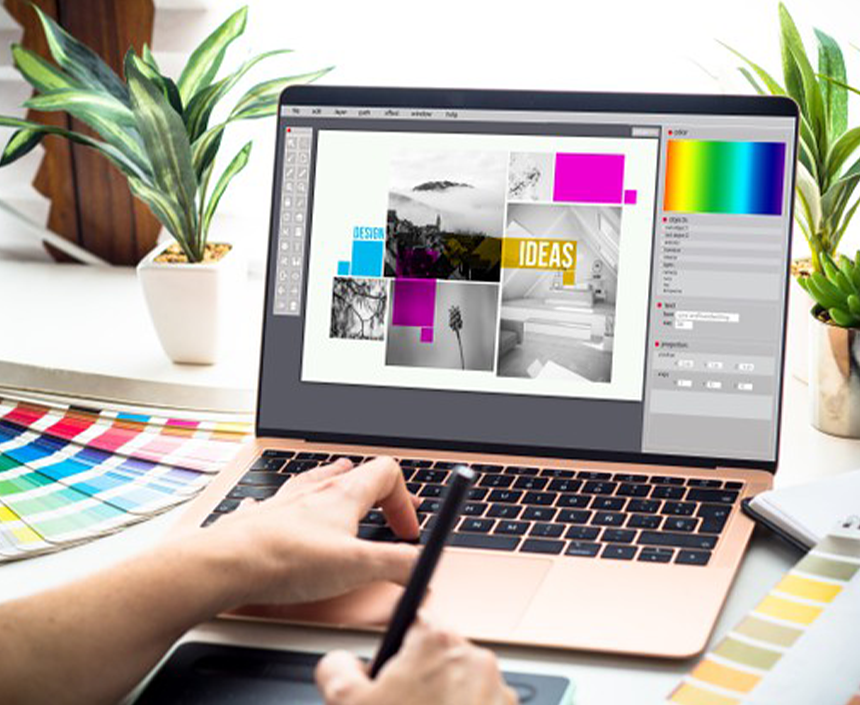 Who Can Join Graphic Design Course?
Learn advanced graphic designing in simple ways through our graphic design training institute. It's a complete course for beginners that want to start a career as a graphic designer or entrepreneurs that plan to start their own business or become a freelancer.
12th Class Students
Any Graduates
Any Post Graduates
Job Aspirants
Freelancer
Website Developers
Fine Art Students / Artists
Fashion Designers
Aspiring Graphic Designers
Scope of Graphic Designing
Graphic Design is an industry that has several popular career options. It contains everything from company logos to advertising to the design of entire websites. Graphic Designers have vast employment areas which they can specifically hire in the top sector of Graphic design.
Advertising Agencies
Publishing House
Printing Media
Design Companies
Corporate Sector
Businesses
Website Design
Product Companies
Packaging Industry
Newspapers
Digital Marketing Agencies or firms
Career Opportunities after Course Completion
To pursue a career in graphic design, the learner should have design technical skills and experience in different types of graphic design software. Students will explore various tools that can help them achieve these goals. By the end of this course, you should have a solid understanding of the fundamentals of graphic design.
Graphic Designer
Creative Director
Design Consultant
Packaging Designer
Advertising Art Director
Product Designer
Brand Identity Designer
Web Interactive Designer
User Interface Designer
Art Director
Illustration Artist
Digital Designer
COURSE OUTLINE
BASICS OF DESIGN
The course is designed to give students a detailed understanding of graphic design concepts. Students will learn about typography, color theory, composition, balance, scale, and perspective.
Types of Designs
Graphics
Packaging
Fashion
Automobile
Advertising
Toy
Product / Package
Jewellery
Web Design
Corporate Design
Color Theory
Color theory
Color in design principles
Use of color in design
Colors and printing
Software Covered
Photoshop
Adobe Photoshop is a powerful graphic design tool that allows you to manipulate images in many ways. Originally it was designed for photo retouching. You can use it to edit photographs, add text, change colors, and even make some cool effects. Today, it is used by artists, designers, photographers, and others who need to edit their images.
Introduction to Photoshop
Working with images
Working with images & sizing
Photo Manipulation
Double Exposure Effects
Photo Correction
Black & White to color photo
Damaged & Old Photo Restoration Samples
Image correction & enhancement
Retouching old photographs
Wallpaper creation
YouTube Thumbnails
Photo Album
Web Icons & Buttons
Movie poster design
Text Masking Effect
Working with Smart Filters
Web Template design UI & Mock-ups
Skills developed in Photoshop: Printing and Digital Graphics - Create your unique images, Color Correction, Image Adjustment Layers, Gradient Map Tool, Photo Editing, Image Manipulation, Sharpening Images and many more.
CorelDraw
Corel Draw is a vector-based illustration program that is very popular among graphic designers. It is easy to learn and offers a variety of tools that allow users to create professional-quality artwork. With the help of CorelDraw tools, you can draw shapes, edit text, add images and use many more features.
Introduction to CorelDRAW
Understanding Vector Graphics
Page settings & Page Layout
Logos & identity design
Corporate Stationery Design
Design with Typography
Events and Exhibitions Designs
Wedding Cards Designs
Flex Designs
3D Objects
T-Shirt Designs
Certificates Design
Brochure Designs
Creating Pattern
Working with Bitmap
Image tracing techniques
ArtWork Painting
Skills developed in CorelDraw: Printing and Digital Graphics - Create beautiful designs, Design logos, Draw illustrations, Vector Graphics, Business skills, Typography and many more skills.
Adobe Illustrator
Illustrator is a vector graphics editor developed by Adobe Systems. It is easy to edit, change colors, shapes, and sizes without losing quality and can create different types of designs like brochures, advertisements, book covers, packaging, and others.
Introduction to Illustrator
Artboard settings & Layout
Working with image effects
Creating brushes & shapes
Creating Patterns
Recolour Artworks
Create 3D objects
Typography effects
Textile and Surface Designs
Digital Media Designs
Print Media Designs
Animation Cartoon Character Designs
Object Drawing ( Emoji- icons & more)
Realistic Product Designs
Perspective Designs
Skills developed in Illustrator: Printing and Digital Graphics Vectorization, Typography, Cartoon Character, Aesthetic Logo, Information Graphics, 3D Models and many more skills.
Adobe InDesign
InDesign is a page layout application from Adobe Systems Incorporated. It is a software program that allows you to create your print-ready files from scratch. Its features include text formatting, typography, page design, and document management. You can design stunning brochures, glossy magazines to even whole books.
Introduction to InDesign
Setting up a document
Placing & Working with Graphics
Working with Object
Book Cover Page
Magazine
Newsletter
Invoice
Calendar
Infographics
Newspaper Layouts
Menu Card Designs
Resume Designs
Letterhead Designs
Brochure Designs
Skills developed in InDesign: Printing Graphics Professional print-ready documents, Essential skills that will allow you to manage any print document, Designing and publishing multi-page documents containing text.
Canva
Canva is a free online tool that allows users to create beautiful designs without having any design skills. You can use your images, text, fonts, colors, and layouts to create professional-looking graphics. It contains templates for flyers, posters, social media posts, websites, business cards, brochures, presentations, eBooks, infographics and many more.
Introduction Features of Canva
Resume Design
Social Media Posts Design
Logo Design & Business Cards Design
Posters Design
YouTube Thumbnails Design
Infographics Design
Brochures Design
Certificates Design
Product Labels
Web Banners Design
Invitation Design
Newsletters
E−Book Cover Page
Calendar
T−shirts, Mugs & many more mock-ups
Skills you develop in Canva - Printing and Digital Graphics Pre-designed templates or start from scratch and design your template, Easy-to-use Pre Build template, make text animations and many more.
Course Duration
Course Duration: 65 Sessions to be covered 3 Months.
Certification
We provide MSCVT certificate after successful completion of course.